We provide services to adults with developmental disabilities in west central Maine. Work First Inc. provides support to promote the development of an individual's personal growth, social responsibility, independent living, and vocational needs.
We teach skills to increase the likelihood that people with disabilities will develop relationships, increase control over their lives, and acquire positive roles in community life.
Services are provided at job placements in the community, volunteer placements in the community, and at Work First Inc. Services are developed according to the needs of the individual.
Community Support
Community Support is defined as a service that helps to increase or maintain one's ability to successfully engage in inclusive social and community relationships and to develop skills that support health and well-being. Many of the individuals volunteer with several organizations in the community such as Seniors Plus, United Way, and the Franklin County Animal Shelter. We also offer individualized daily choices of activities and events in the community.
Work Support
Work Support is defined as a service to improve and individual's ability to independently maintain productivity and employment. Without work support, many individuals with developmental disabilities would not have the opportunity to work and earn a paycheck. Individuals receive 1×1 job coaching at the person's place of employment. There are many local businesses in the Farmington area who employ people with developmental disabilities.
Employment Mission:
Work is a part of the age appropriateness model that has been followed since the closure of Pineland in 1996. Every citizen has the right to work at their level of capability and to be part of their communities. Society measures people's worth on their ability to support themselves and contribute to their communities. Work has been viewed as inherently good and of value to the human condition. People with disabilities want the same opportunities as their neighbors. Work offers dignity and a model of community involvement that steps away from the institutional days where "just having a place to stay" was good enough. To create a meaningful rhythm to a day that offers involvement in the community and sharing of energy in a purposeful way is the basis of all work. It creates feelings of self-worth and eliminates the potential of loitering, meaningless days and maladaptive behaviors that can be destructive. Work is an individual choice of how, where and when a person becomes involved in their daily task. Work of all kinds improves an individual's quality of life. People with disabilities want no more or less than a person without a disability.
Work First Inc. will promote integrated community-based work opportunities to all individuals seeking employment. Integrated community based is in the competitive labor market. Customized employment opportunities will be explored with all individuals. All employment opportunities will seek compensation at or above minimum wage as the preferred option for all individuals.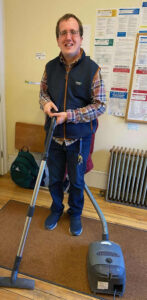 Community Membership
The purpose of this program is to provide direct support by a Direct Support Professional to ensure people with disabilities receive support and services to successfully engage in inclusive social and community relationships and maintain and develop skills that support health and wellbeing directly in their communities. The focus of this service is community inclusion, and the participant may also receive support to increase personal development and daily living skills if necessary.
To ensure individuals served are supported to meet their identified goals in exploring, achieving and /or maintaining meaningful connections and relationships within their community.
Community membership focuses on ensuring no barriers to full community membership and employment.
Person-Centered Planning
Each individual who receives services has a Person-Centered Plan (PCP) which identifies needs, celebrates achievements, and provides a plan of action to assist the individual achieve their life goals. Services are designed to assist the individuals achieve their goals, whether it is to succeed at their job or learn skills to become more independent and productive citizens.
2022 DSP of the Year: Ellen Crocker
Ellen has a natural, joyful approach to everything she does. She recently worked with an individual on horseback riding as requested in the person's PCP. The individual really wanted to try riding, but she was really frightened. Ellen patiently showed up every week with the individual. After patiently helping the individual learn more about the animal, Ellen finally assisted the individual in getting up in the saddle. It was a really big triumph. It took time, patience, and a positive attitude to reach this milestone. The individual is now riding every week.
Ellen has been employed for 34 years and continues to shine in everything she does. When we started the new HCBS delivery of services, it was a really big change for all the DSPs. Most were nervous, not to mention a bit negative. They liked the 'OLD" way. Ellen would speak up in these meetings and share her enthusiasm for the opportunity to try new things and find "fun" activities in the community. She was very influential in embracing this community integration service.
Ellen after 34 years continues to share her heart and soul with all the individuals that receive services from Work First. She takes the time to learn what interests and needs each person has and she naturally makes the connection with them. The individuals love to work with Ellen, and her positive attitude is witnessed and felt by every employee and consumer at Work First. She takes the time to say Thank you for everything. Her appreciation and gratitude are contagious. She is often heard saying, " I love my job and feel so blessed." She is a one-of-a-kind DSP and it is Work First that is BLESSED!